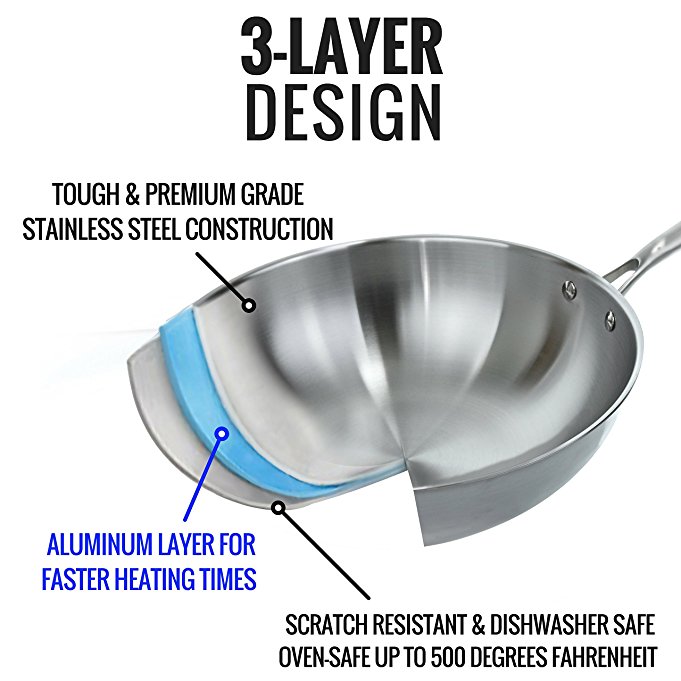 ★ 3 LAYER DESIGN - The center aluminum core designed to a great conductor of heat. Allowing the wok to heat up faster so that foods will cook faster and less energy will be used. The aluminum core surrounded by two layers of fire-resistant, rust free, and food safe stainless steel.
★ COOK MORE OF YOUR FAVORITE FOODS - Adapted from a traditional cast iron round-bottom wok, to wok offers a wide cooking surface that is ideal for stir frying, steaming, pan frying, deep frying, poaching, boiling, braising, searing, stewing, and making soups. All this can be done on both a gas or electric range.
★ WHAT'S IN THE BOX - This set comes with one 13-inch diameter 4 pound stainless steel wok, one stainless steel dome cover lid, and one bamboo handle spatula to make sure that you can cook with your new stainless wok set on Day 1.
★ SMART ERGONOMIC DESIGN - The wok hand is has an extra long design to sit farther away from the heat source. This provides a secure grip while staying cool on the stovetop.
★ 100% SAFE ALL AROUND - Rest assured that your new stainless steel wok set is a safe purchase. The wok pan is scratch resistant, heat resistant and dishwasher safe. ALSO your cookware is both PFOA & PTFE free