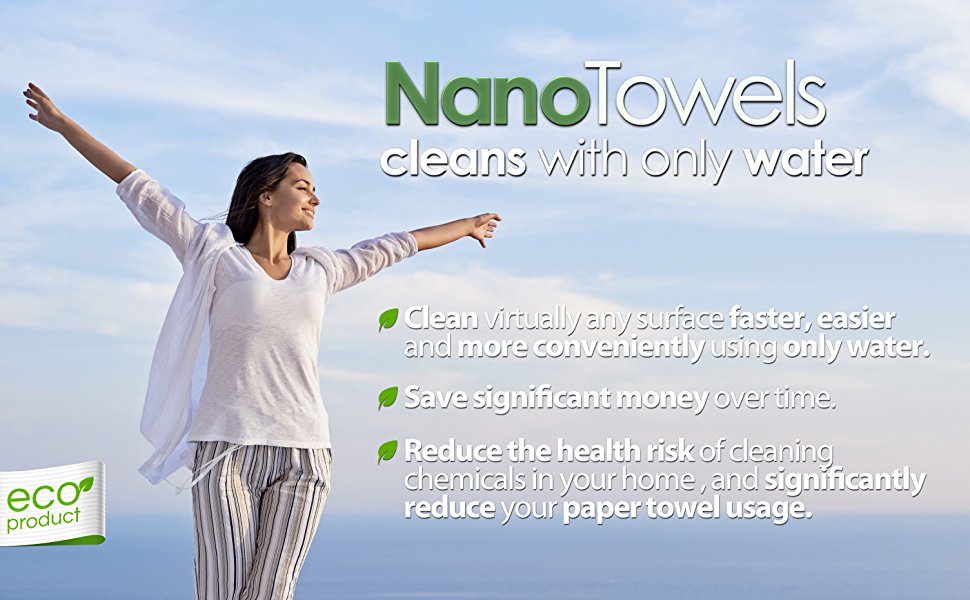 The NanoTowels are a new type of cleaning technology that are made with the exclusive, proprietary fiber called "Nanolon" that uses only water to clean.Nanolon is a breakthrough new fabric technology that is uniquely blended spun and constructed in a unique and proprietary way to give it special and unique cleaning characteristics, and make it unlike any other fabric or cleaning material.

The NanoTowels have proven in independent laboratory testing to clean a wide range of surfaces using only water, and better than traditional cleaning chemicals and paper towels. You can replace almost all of the toxic cleaning chemicals in your home, and 70-80% of your paper towel usage.
UNIQUE AND PROPRIETARY.

The only towel in the world that uses proprietary Nanolon fiber technology. Nanolon is the next generation super fiber that is proven to clean virtually any surface using only water. It Cleans With Only Water.
DOES IT ALL. Effectively clean almost any hard surface. Including glass, mirrors, tile, wood, stainless steel, chrome, metal, granite, porcelain, etc. Use it for gentle dusting, or for hardcore cleaning.